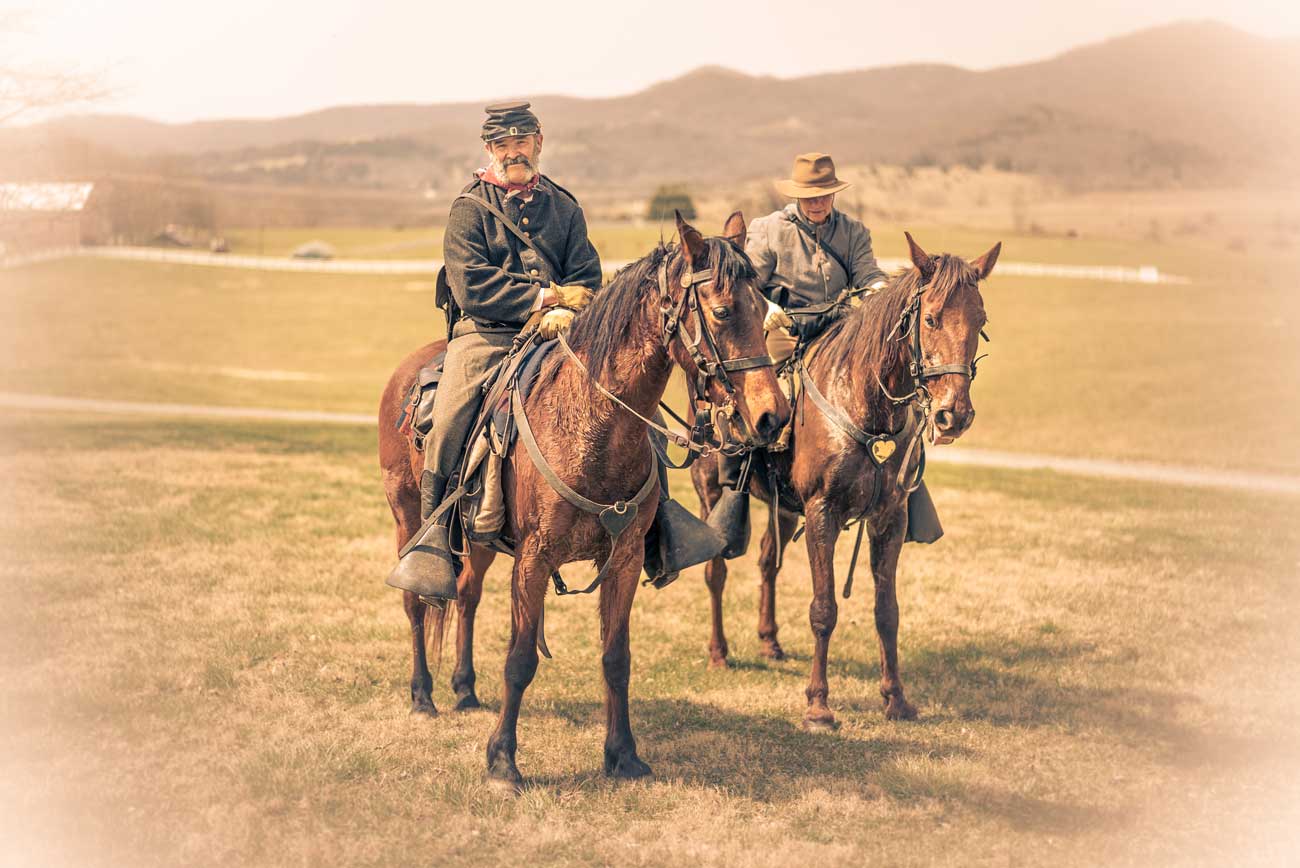 History Lives here
From the American Revolution until the present time this section of the country has experienced very significent events.

Pictured are Civil War re-enactors on the lawn. There are frequently folks in all sorts of costumes riding horses around the extensive lawns at Elmwood. Several re-enactments have been held here in the recent past and additional living history events are planned.

Monroe county is home to numerous historical interest groups ranging from the Monroe County Historical Society to groups involved with living history events, agriculture, architecture, gardens, even old tractors and machinery. For further interest see http://monroewvhistory.org/ and http://mchdwv.com/

For history buffs, historical information about Elmwood and its builders abounds, and we will review this with you. We are pleased to announce (Nov 15th) that Donald Caperton has just released a new and expanded book on the family history. Procure yours at the Caperton Society site: The Capertons
Thomas Jefferson Architecture
Elmwood was built in the late 1830s by William B Phillips, Thomas Jefferson's best mason from his University of Virginia project.

Elmwood features the Doric order developed by Palladio from his studies of the Theater of Marcellus in Rome and employed by Jefferson at Monticello and several buildings at the university.

A Jeffersonian house, Elmwood faces west. Pictured is the west elevation with ceremonial front steps and ancient boxwoods. These steps are frequently used by events for group pictures and can accomodate from just a few to about 120 people.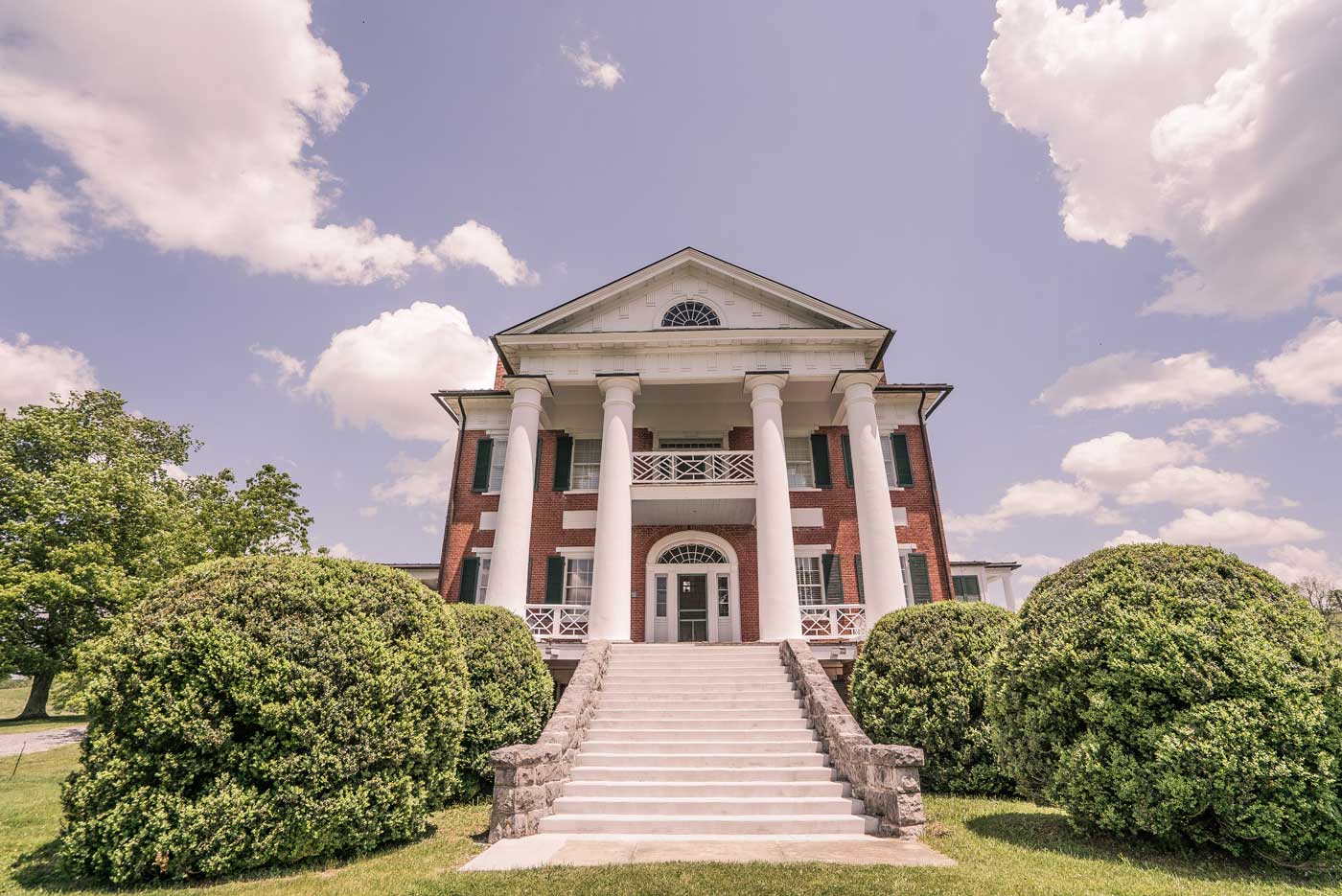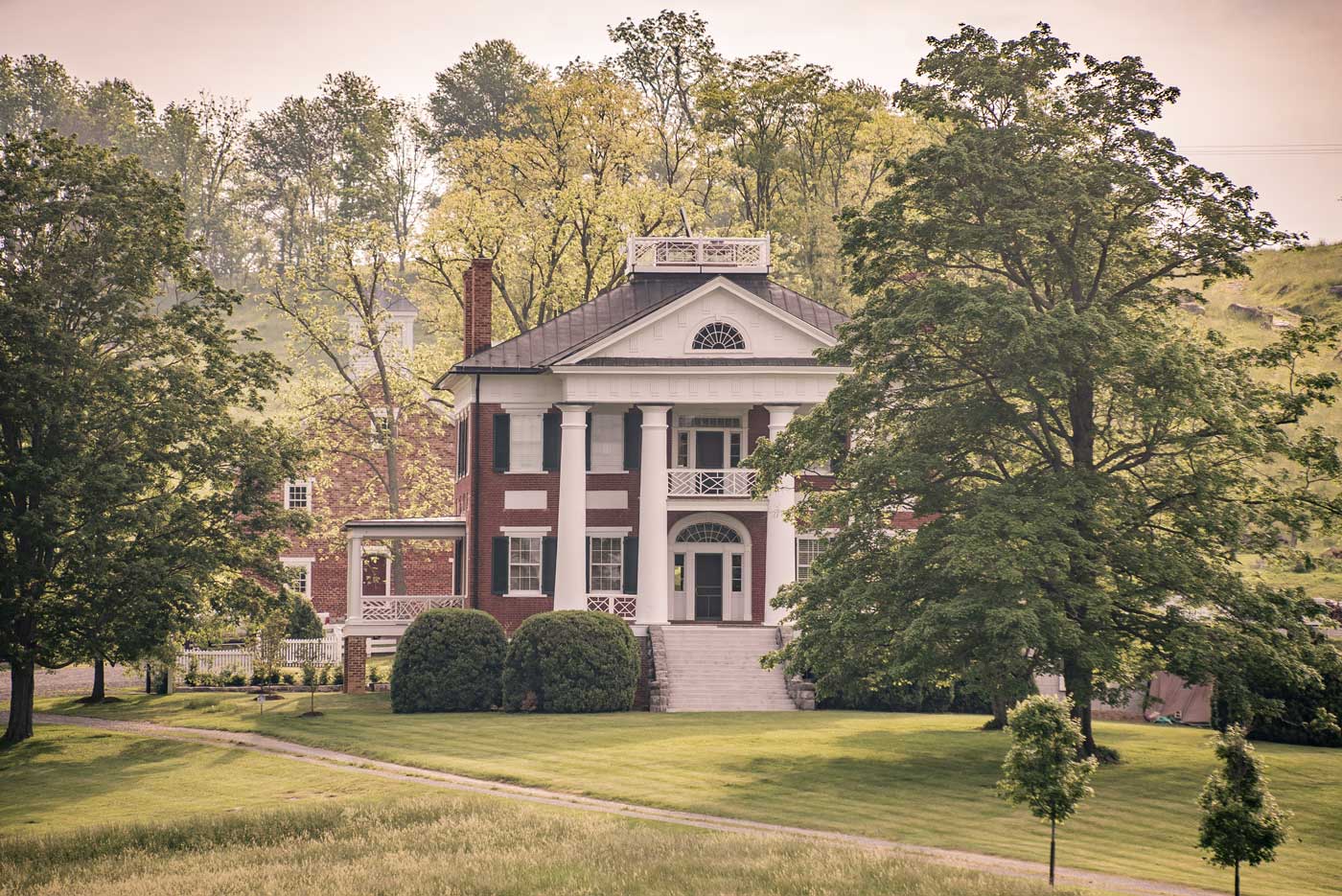 Ethereal or real?
Elmwood's placement on a hill, surrounded by layers of stately trees overlooking views of the surrounding mountains, evokes an ancient temple, imagery purposely created by its 1830's builders and preserved by past and present owners.

This telephoto image captures Elmwood's beauty in the spring as leaves of various types of trees unfurl. Around our extensive lawns, there are five types of oaks, four types of magnolias and maples, and varieties of native ornamentals ranging from witch hazels to American hornbeam as well as historic imports such as a cedrus libani (cedar of Lebanon).
Brick Barn is listed on the National Register of Historic Places.
Thought to have been the first home called Elmwood, and, as can be seen here, originally created as a five bay two story structure, it was probably built around 1808-1810 by Hugh Caperton and his wife Jane. Hugh and Jane raised ten children in this first home before she died in labor with her eleventh child. A C Wylie, who owned Elmwood from 1910 until 1945, developed this building into the present barn which he used to house his valuable work horses.

This view shows the south elevation with its clear roof porch surrounded by American Wisteria vines. The barn and porch are available for parties, dinners and receptions.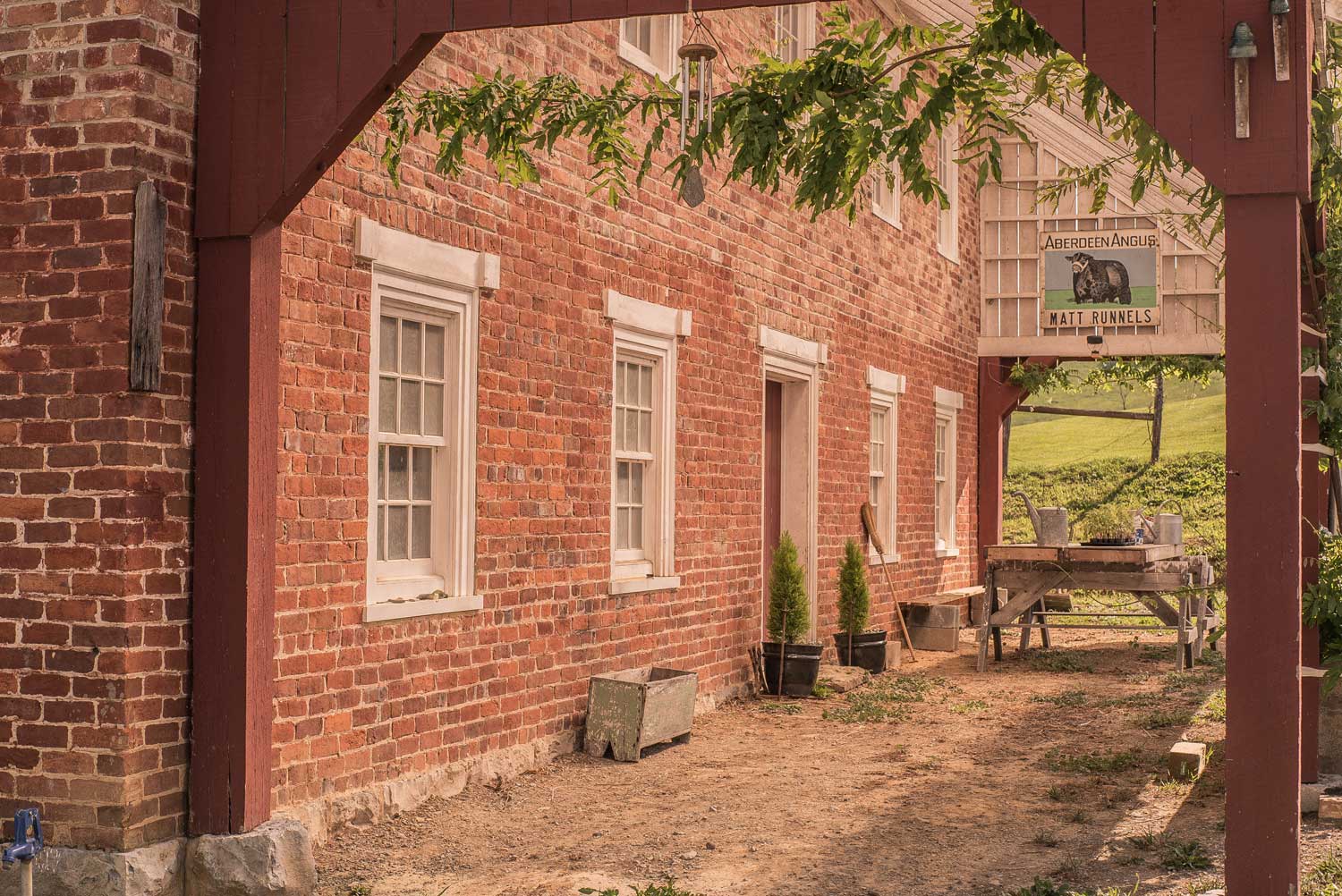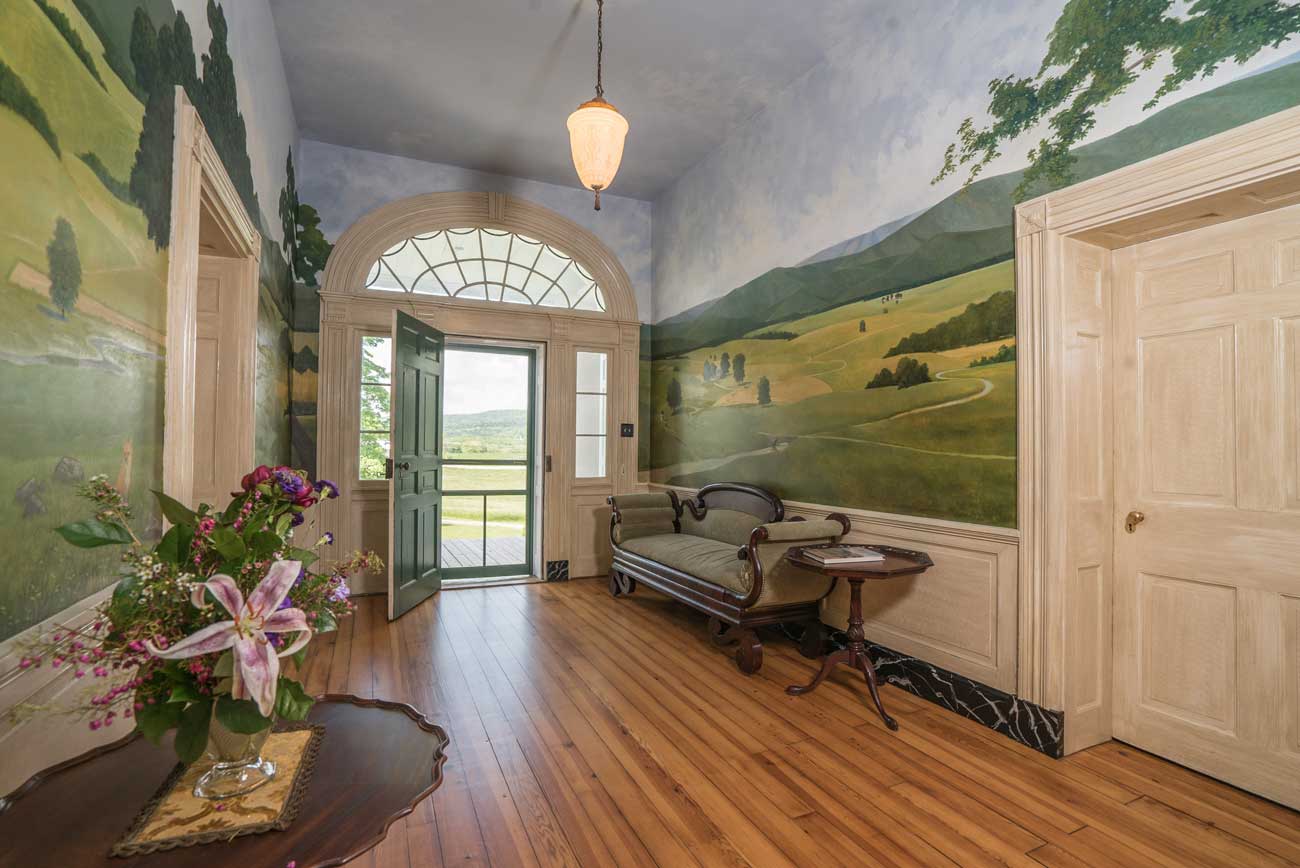 The main hall
Elmwood's detail created by Thomas Jefferson builder William B Phillips exists in its entirety and has been carefully preserved and restored.

Pictured is the main hall with murals of Virginia Scenery and development of the famous mineral springs in the early 19th century. The panorama of the real mountains outside extend from the mountains painted in the mural.
The dining room
This large room was recreated by removing four rooms that were installed by earlier owners. In about 1915 the then current owner created an inside kitchen, a bathroom, a closet and a dressing room in this space. Once the present owners completed demolition of the earlier rooms, the blocked off fireplace was re opened and rebuilt. Crown molding adapted from Jefferson's Monticello was installed along with the matching china closets. Talented craftsmen from Monroe County carried out this and all skilled level restoration work.

The present glamorous dining room with its collossal 18th C crystal chandelier is used for elegant dinners, small parties and meetings.